SWIMMING POOL SCREEN REPAIR
BRADENTON
Are you looking for a professional swimming pool screen repair service in Bradenton? If so, then you are in the right place. Pool Screen Repair Services Bradenton LTD is a company with years of experience in screen repair.
We know how important it is to repair the swimming pool screen. That's why we offer services that will help you maintain. We guarantee 100% customer satisfaction.
We offer a lot of options you can choose from to repair the screen, including pool screen replacement, pool screen repair, and pool screen maintenance.
Importance of
Pool Screen Repair

Works
Swimming pools can be such a fun place for children to play and swim. But risks to the water quality and sanitation of these pools are an issue. And now, there is a solution not only for those who own swimming pools but those who visit them as well. Swimming pool screen repair Bradenton fl can help keep your pool safe and clean. If a swimming pool is not taken care of, there are some risks involved with it. The water quality and sanitation of the pool can be put in jeopardy if it is not taken care of. An extensive amount of bacteria can be found in the water that could cause illnesses to those who are swimming in it.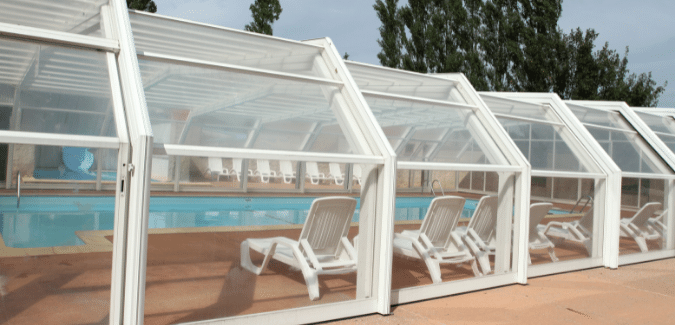 There are various types of repair works required for pool screens. If you perform regular maintenance works for your pool cages, you will be saving a lot in the long run. These are some examples of repair works.
Small animals or pets often want to get in the pools and damage the enclosure or cage by clawing or teething. We are here to install pet doors and add screening services so that the swimming pool screen requires minimal repairs.
Chipped Paint and Rusting
Over the course of time, your once beautiful swimming pool screen becomes rusted, particularly hinges and screws. Also, you would notice paint got chipped and loose in some places. If you repair them after long times, the overall pool screen quality will degrade rapidly.
when the pool screen gets torn from the frame, the repair works become costly enough so that we recommend you to do total rescreening of the swimming pool screen. It can happen in two ways, either by sagging or pool screening net or framing works get weakened over time. We offer services for all the above mentioned work in swimming pool screen repair Bradenton fl. First, we will send our expert to assess your repair needs. And then we will quote according to the assessment of work and your requirement.
CHOOSE THE TOP SWIMMING POOL SCREEN REPAIR
BRADENTON FL
Swimming Pool Screen is an essential part of a pool and requires regular maintenance to keep your pool fresh and clean. We hope that you have found our article helpful to make an informed decision on swimming pool screen repair and we wish you good luck in your upcoming repair project.