PATIO SCREEN & RESCREENING REPAIR
BRADENTON
Are you looking for the top patio screen and rescreening repair service in Bradenton and the surrounding areas? You don't need to do a further search as you have got the right one. The Pool Screen Repair Services Bradenton LTD. provides you with professional and comprehensive screen and rescreening repair service for pool patios, cages, and porches. Whether you need to install a new screen door for your pool or screen repair, all you need is an expert to fix the problems. Sometimes pool owners try to mend or patch up the pool screen by themselves. This may lead them to face recurring problems. That's why your pool enclosure repair should be done by professionals.
Patio Screen & Rescreen Repair
Bradenton
Do you want to enjoy the outdoors, even while venturing indoors? You can enhance the beauty and value of your pool by using pool enclosures. Enclosures can make your pool into an excellent vacation spot and a smart way to extend your entertaining area. You can nowadays easily turn your pool area dreams into reality. 
But, after enjoying and relaxing under your pool screen enclosures for several years like 5 or more, you might detect that the screen is saggy, or the stitching of it is coming apart. This is pretty much an eyesore and quite a hindrance for you to invite your friends and relatives to your pool enclosure. 
However, your enjoyment won't be limited due to your deteriorating patio pool screen. With the help of a professional pool patio screen and rescreening service, you can give your enclosure a brand new look.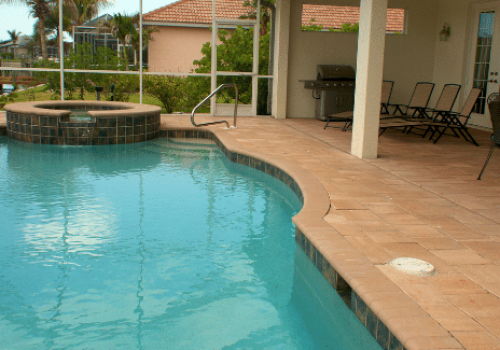 Patio Screen & Rescreening
Your pool enclosure may require different categories of repairing services such as single panel replacement or complete rescreening, fixing rotted wood fascia, structural damage repair, and others. And the cost for individual service is different based on the required labor and material. 
Nevertheless, the cost is, complete screen repair is the best approach to the damage of your pool screen. Though the damage is small and underlying at the start, over time it leads to extensive damage. So, even after doing single screen panelling, the damage might go to the dogs. The best way is to inspect your pool enclosure in depth before deciding which service you need to do.
Pool Rescreen Repair Bradenton
There are many reasons why you may require pool rescreen repair in Bradenton such as corrosion caused by birds, gnawing by pests through the screen material, or natural calamities like storms, hurricanes, thunderstorms, and hail. You might see holes or dents in the structures or corrosion in the wood and metal parts of the pool screen.  Replacing the screen includes removing the rubber thread or the spline, which hold the screen in place. Additionally, with a rescreening service you can install a new good quality screen. A pool enclosure makes an enjoyable leisure space around your home pool. Also, it gives safety to the pool. So, it is worth maintaining your stunning pool screen enclosure.